Metallic Fiber and Yarn:
Metallic fiber is manufactured fiber composed of metal, plastic-coated metal, metal-coated plastic, or a core completely covered by metal. These are light weight and relatively inexpensive yarns. Metallic fibers are an attractive class of fibers for composite applications considering their exceptional mechanical properties; however, the specific strength or strength to weight ratio (strength divided by density) of metallic fibers is inferior to high performance carbon, polymer or ceramic fibers due to their higher density. They also have disadvantages like poor corrosion resistance and inferior bonding strength with matrix. But, the surface of metallic fibers can be coated with ceramics to address these problems. Till today, they are the popular choice for applications like infrastructure building, electromagnetic interference shielding (EMI shielding), etc.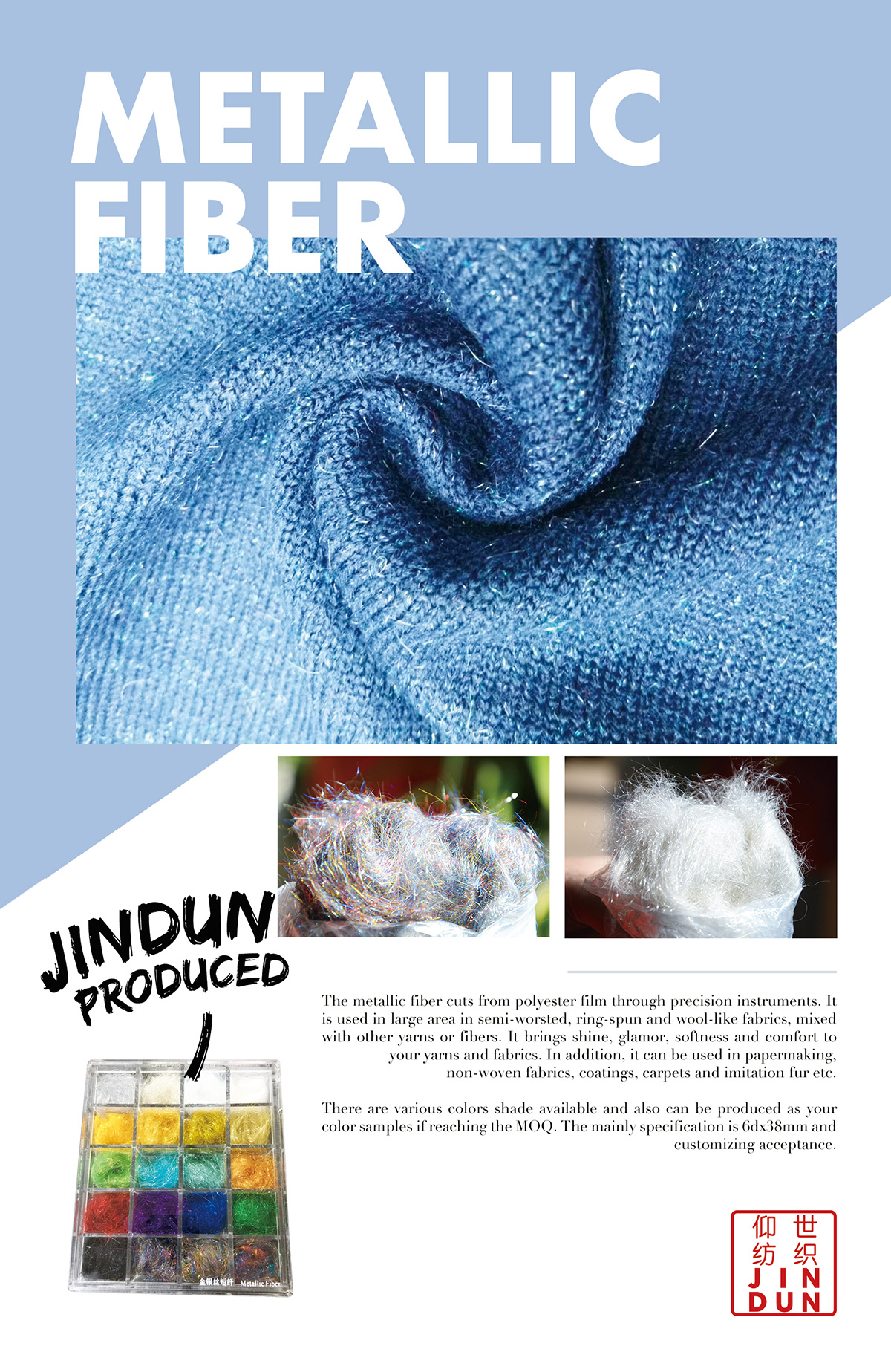 Gold and silver have been used since ancient yarns for fabric decoration. More recently, aluminium yarns and aluminized plastic nylon yarns have replaced gold. The metal generally used is aluminium, and the plastic used is cellulose acetate butyrate or mylar. They are made through laminating process. Coated metallic filaments help to minimize tarnishing. It is available only in filament form.
Any ductile metal, such as gold, copper or silver, can be drawn into fine filaments that can be rounded or flat. Expensive metals, such as gold and silver, may have inner cores made out of cheaper base metals, e.g. copper or polyamide. These filaments and threads are used mainly for decoration in embroidery, fringing, braids or are woven into fabrics such as brocades or tapestries. Some metallic threads tarnish, so they are replaced with threads that look similar but are made of a cheap metal e.g. tinfoil, which are placed between two thin layers of polyester film called Mylar and laminated; for silver color the film is clear and for gold the film is pigmented but they can be produced in any color. These threads are often known as Lurex. Metal threads are usually made with a core of cotton yarn wrapped within a ribbon of metal. Gold thread and silver wire are used for expensive fabrics. Imitation gold and silver wires are also prevalent, but they get tarnished easily.
Modern metallic yarns are produced from colored aluminium ribbons sandwiched between two layers of transparent plastic material. Aluminium, the basic metal used is softer, lighter in weight and cheaper than the more precious metals and is not apt to tarnish or cause discoloration.

Types of Metallic Fiber:
A number of metals are available in various fibrous forms. However, a number of practical factors limit the number of fiber types for composite applications. The most important influencing factors are availability, abundance, processing difficulties and cost. Cost of metal fibers is determined by a number of factors such as fiber type, abundance, production procedure, diameter, form and so on.
300 and 400 series stainless steel, nichrome, inconel, hastelloy x, carpenter 20cb3, nickel, 80/20 nickel chromium, titanium and tantalum are widely used to produce metal fibers.
Stainless steel fibers are the most potential metal fibers in terms of availability, application and material properties.

It cuts from film.
Use & Feature:To be usedin Blending with other yarns or fibers in amounts as small as 2%,it gives sparkle ,highlight, softness and comfort to your yarn and fabric.
Color:Various colors available, having color cards for your reference, and also can be dyed as per your color samples.
Packing:5kgs/Bag,1bag/carton, carton size: 37x46x1000px ,meantime accept customer's requests.
Item:Thickness 12MICRON , 15MICRON,23MICRON and etc. width 1/600", 1/480" and etc. normal length 38MM.
Customizing:Acceptable.